Microsoft Named Leader in Unified Communications as a Service by Gartner
In October 2021, Gartner released their latest Magic Quadrant for Unified Communications as a Service, Worldwide. This quadrant ranks various communication companies' completeness of vision against their ability to execute effectively. Microsoft, Solgari's strategic partner, was ranked at the top right position, highlighting them as a leader in the market.
According to Gartner, Unified Communications as a Service (UCaaS) is a cloud-based service that delivers meetings, telephony, messaging, software apps, communication APIs and SDKs and related services such as QoS and monitoring.
Gartner have named Microsoft a leader in Unified Communications as a Service primarily due to the huge upsurge in the adoption of Microsoft Teams, and the related benefits of the platform.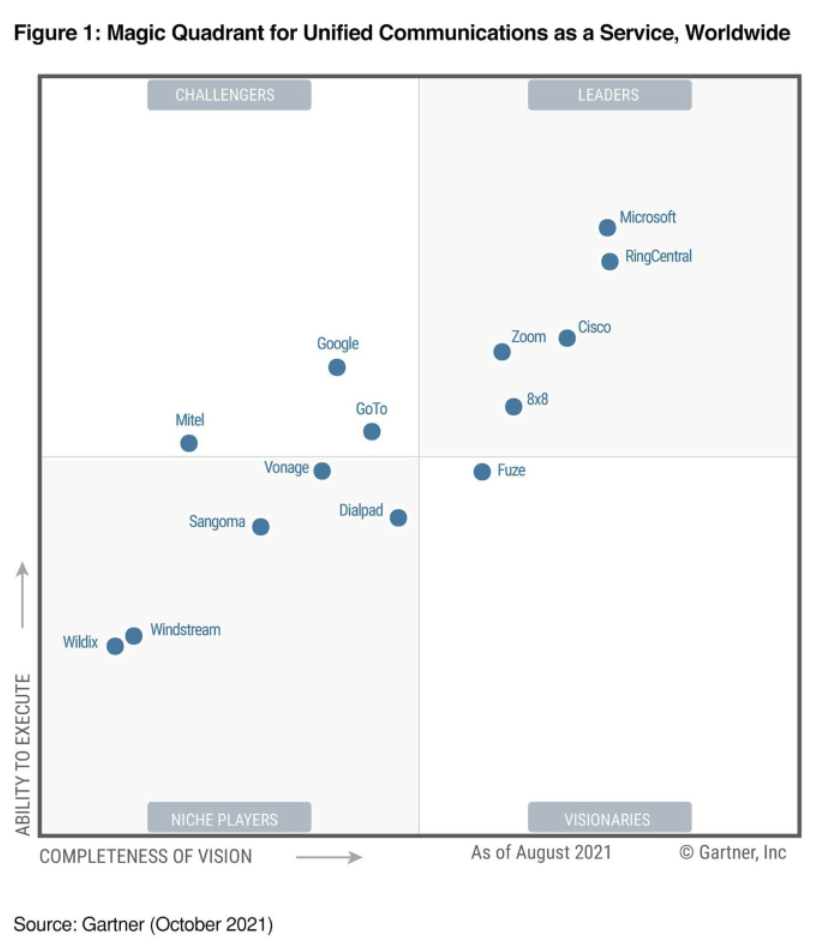 Microsoft Teams Phone
With nearly 250 million monthly Teams users, it is perhaps no surprise that the adoption of Teams for telephony is beginning to surge too. Gartner note the 80 million monthly active Teams Phone users (a number that has rapidly expanded since the launch of this integration) as evidence of the strength of their evolving PTSN calling plans.
Over the course of the past year, Microsoft have introduced new and exciting features into Teams Phone. These include spam call identification, Apple CarPlay support and the ability to seamlessly transfer calls between devices, including computers and mobile devices. Microsoft have also introduced a 'better together' device experience, enabling your Teams devices to complement each other better – you can now call, mute, unmute or end a call on any device with Teams downloaded.
At Solgari, this represents a very exciting opportunity, as Solgari for Microsoft Teams enhances and extends Teams Phone capabilities and brings it fully into a contact centre paradigm.
Microsoft Teams
Microsoft Teams has also seen some significant announcements in this period, which help to facilitate stronger, more effective communication for businesses operating using a remote working model. Microsoft have introduced new features to aid remote presentations. PowerPoint Live in Microsoft Teams allows presenters to lead a meeting with full access to their speaker notes, slides, meetings and participants, while participants are able to view the slides at their own pace. It's the best of both worlds for everyone.
The perfect companion to this feature is Presenter Mode, which allows you to alter how your video feed and content appear to the meeting participants. This can help to make your content more engaging for all involved. With additional features such as Speaker Coach (AI that guides your presentations pace and style), Dynamic View (which intelligently arranges the view of your meeting for the most optimal user experience) and automatic lighting corrections, Microsoft Teams has proven itself as a standout presentation platform.
Standout Unified Communications as a Service: Solgari
At Solgari, we understand the importance of powerful communication, and recognise the standout tools on the market that facilitate this for users. Solgari integrates natively with both Microsoft Teams and Microsoft Dynamics 365. As a premium tier partner in Microsoft's Business Applications ISV Connect Program, Solgari optimises Microsoft Teams, extend its already impressive features with voice, video, chat, SMS, WhatsApp and social media.
To find out more about how Solgari helps to provide the ultimate Unified Communications as a Service solution, book a demo with one of our experts today.
Optimise Remote Working with Microsoft Teams
March 2020 brought about an unprecedented global situation both personally and professionally, as the COVID-19 pandemic forced businesses to abandon their offices in favour of their homes. Without innovative collaboration tools such as Microsoft Teams keeping us connected, the transition to remote working would have been nearly impossible. However, the success of this transition is exemplified by the fact that even as the pandemic begins to ease, many businesses are continuing to operate using a remote or hybrid working model.
As more employees demonstrate their desire to continue working remotely in some capacity, in order to retain their key players, all businesses must understand how to integrate additional, mission-critical capabilities such as contact center as a service, into their Microsoft Teams estate, to enable teams to deliver value to customers from anywhere and compliantly access the tools they need to perform as part of this hybrid model.
Fortunately, Solgari for Microsoft Teams offers a simple solution, boasting a variety of features, capabilities and benefits that make remote working not just possible but effective.
The features of remote working with Microsoft Teams
Document collaboration and file sharing
Microsoft Teams provides a single, seamless environment in which to store and share crucial documents and files. Whether you are working in Word, Excel or PowerPoint, users can easily share and collaborate on documents in real time, even when a customer or colleague is on the line. As Microsoft Teams syncs updates automatically, you don't need to worry about version control or over-writing another user's work. With effective collaboration at your fingertips and the business communication capabilty of Solgari working in perfect harmony, remote working with Microsoft Teams has never been easier.
Instant messaging
If your team are not physically together in the office, then they need to find an equally fast way to communicate. Not every request, query or check requires an email; in fact, many businesses are finding internal email increasingly inefficient. Microsoft Teams allows colleagues to stay connected quickly and easily. Not only can you easily reach fellow employees, but you can check their availability at a glance via their statuses, so you can feel assured that you are not messaging at an inappropriate or inconvenient time. From a contact centre perspective, that Presence detail can integrate with call status, queues, and wrap-up time – so that colleagues get one, accurate way of knowing whether you're available for a call or chat, or not as the case may be.
Video calling
Perhaps the most obvious advantage of remote working with Microsoft Teams is the ability to host meetings and conferences via video call. According to your specific preferences, you can set the meeting to either only audio or video. There are also a range of features that make holding meetings online easier and more productive. For instance, the speaker can share their screen to make content more accessible to everyone involved, the meeting can be recorded and made available on demand to anyone, and participants can raise their hand (virtually) to ask questions without interrupting. These features help to make virtual meetings just as seamless as in-person ones.
Organisation and management
One of the greatest challenges of remote working is organising your team while working separately. Staying abreast of your colleagues' engagements and commitments can be challenging without being able to ask them personally. Fortunately, remote working with Microsoft Teams is made easier by its impressive organisational capabilities. Teams integrates with your Outlook calendar, allowing you to not only maintain consistency across your Microsoft 365 suite, but also access the calendars of your colleagues too. Creating and inserting new meetings is simple once you have a clear understanding of everyone's availability.
Furthermore, you can integrate Planner into Microsoft Teams, adding it as a tab in the General section for convenience. This tool allows you to create to-do lists, categorise tasks, set timelines, prioritise projects and assign them to members of your team. In short, Planner helps you to stay on top of your daily operations and track your progress more easily.
Within the contact centre function, Supervisors gain a single, unified view of call and agent data, across all channels – providing them with the tools and insight required to refine processes, manage call queues, identify communication bottlenecks, promote first call resolution, and increase efficiency throughout the contact centre estate.
Optimise Teams with

Solgari

 
Solgari is an omnichannel Contact center as a service, delivering powerful, unified communications. Available as a native application within Microsoft Teams, Solgari helps to enhance and extend its remote working potential with voice, video, chat, SMS, WhatsApp and social media.
Want to discover how Solgari can enhance remote working with Microsoft Teams? Book a demo today to trial our innovative communication capabilities.
Solgari for Microsoft Teams launch
Dublin, Ireland – Monday 23rd May
Solgari announces new contact centre solution for Microsoft Teams based on Dynamics 365 Customer Service that meets customer and patient services use cases across Healthcare, Financial Services, Manufacturing, and other industries.
Solgari for Microsoft Teams enables SMB and Enterprise customers with all-channel contact centre capability in Teams.
Speed to value is a key differentiator, the solution is available for trial and onboarding, delivering against industry-specific use cases and business impact immediately.
Solgari for Microsoft Teams is delivered on Microsoft Azure globally, meeting regional & country level data sovereignty security trust and industry compliance including UK, Western Europe, ANZ, Asia Pacific, US and Canada.
Solgari, a member of Microsoft's Inner Circle for Business Applications since 2020, is delighted to announce that our proven and trusted all channel contact-centre-as-a-service (CCaaS) solution is now available as an application for Microsoft Teams. The Teams application is based on Solgari's solution built on Microsoft Dynamics 365 Customer Service which launched last year.
Solgari for Microsoft Teams brings new capabilities in agent-assisted and automated Customer Service, Sales, and Marketing to millions of active Teams users and their customers.
Solgari for Teams brings additional communication channels for inbound and outbound customer engagement, including SMS, WhatsApp, social media, Voice, and any API-enabled channel. Integrations for globally relevant channels including WeChat and Line are scheduled into the solution roadmap.
Agents can switch effortlessly from internal collaboration with colleagues, to customer and prospect-facing conversations, and with multi-session handling across different channels as standard as well as real-time reporting dashboards. The solution takes advantage of the integration between Microsoft Teams and Dynamics 365 by providing case management capability that writes the relevant communications into the customer entity timelines.
Supervisors and Business Leaders benefit from one golden source of all unified communication channel data, enabling both day-to-day management of their contact centre estate as well as strategic refinement and operational efficiency gains.
Customers benefit from the wide range of industry-specific use cases that Solgari for Microsoft Teams enables, such as patient and family outreach by healthcare professionals, delivery of compliant remote financial advisory services, or post-sale service and support in manufacturing and retail.
Solgari's strategy leverages Microsoft cloud through the all-channel cloud contact centre solution integrated with Microsoft Teams and Dynamics 365, and specific Microsoft Industry Cloud focus across Financial Services, Healthcare, Manufacturing, Retail and Non-Profit. The solution is available on Azure and supports regional compliance and security requirements and provides a tier-1 carrier service.
Marcel McCann, Solgari CTO, said "Solgari for Microsoft Teams answers the demand from Teams users who want to use the application for customer service and sales, putting Teams at the centre of customer communications. Delivered on Azure and leveraging our Solgari for Dynamics 365 application, Solgari is delivering a scalable and global solution that gives any Teams user access to any communication channel, all contact centre and case management capability to address their own industry use cases. We are delighted to extend our deep integration with Microsoft with this high value, customer focused solution for the modern workplace."
Ben Summers, Director, Teams & Microsoft 365 Platform Marketing at Microsoft, said "Solgari is taking advantage of Microsoft Azure, Microsoft 365 and Dynamics 365 to deliver a high value add cloud contact centre solution to Teams users. The integration of Solgari with Microsoft Teams offers Teams users an all-channel cloud contact centre solution that rapidly addresses their customers' sales and support requirements across multiple industries."
Solgari for Microsoft Teams is available now on Microsoft AppSource as a "preferred solution", as well as selected ISV partner marketplaces of high relevance for SMB customers globally.
Solgari for Microsoft Teams demonstrates Solgari's continued commitment to excellence in innovation as an ISV within the Microsoft ecosystem – building on a year of deepening our usage and penetration across Microsoft, including being recognised for Azure IP Co-Sell ready status, the recent migration of Solgari entirely to Azure, and being one of the only communication ISVs included in the Business Application Inner Circle for Microsoft's FY22.
—–ENDS—–
Contacts
Vincent Kelly – Head of Marketing, Solgari
About Solgari:
Solgari is a Premium Tier Microsoft Business Applications ISV Connect Partner and part of the Microsoft Inner Circle for Business Applications. Solgari provides the All-Channel Communications Solution for Microsoft Teams, Dynamics 365, and Power Platform, as well as the Solgari for Dynamics 365 Customer Voice Solution which delivers automated phone and SMS surveys.
Our solutions allow Teams, Dynamics 365 and Power Platform customers across Healthcare, Financial Services, Manufacturing, Retail, Real Estate and Non-Profit to address all business communications from customer care, contact tracing, sales, marketing, surveys, and automation, across all channels and functions removing the need for multiple telephony, contact centre, recording and archiving, and carrier solutions. Solgari is an end-to-end global cloud communications solution requiring no hardware or software and in conjunction with our carrier and SMS capability, is available anywhere.
If you are interested in finding out more about Solgari customer outcomes, visit www.solgari.com
Microsoft Teams and Unified Communications: An Overview
While looking for the perfect unified communications solution for your business, you may not have included Microsoft Teams in your research shortlist. If you thought that Teams doesn't qualify as UC, you aren't alone; many businesses adopted it as part of a broader suite of comms applications and therefore think of it as a tool that needs complementing by other applications. But, if you're looking to get incredible bang for your buck from your UC, it might be time to take a fresh look at Teams and reframe the way you think about it.
This blog details everything you should know about how Microsoft Teams can facilitate unified communications and why it delivers the best value on the market.
What is a Unified Communications Solution?
A Unified Communications Solution brings communication, collaboration, messaging, meetings, telephony, mobility, whiteboarding, workflow configurations, video, and audio into a single solution.
Why businesses benefit from Unified Communications
We've covered this in depth already! With an array of communications applications on the market that promise to facilitate better collaboration and break down barriers to effective communication, why are businesses seeking to unify communications into a single solution? 
Single-use platforms, like Zoom or Slack, do a great job of making it possible to work in new ways. However, because they're not designed from the ground up to complement and enable a Unified Communications strategy, in some cases they can even create additional communications silos and negatively affect existing ways of working.  
In contrast, when using Microsoft Teams, organisations can open up new ways of working and enhance existing ways of working. Together, these outcomes become the value lever for better collaboration, improved efficiency and productivity, greater agility, and more.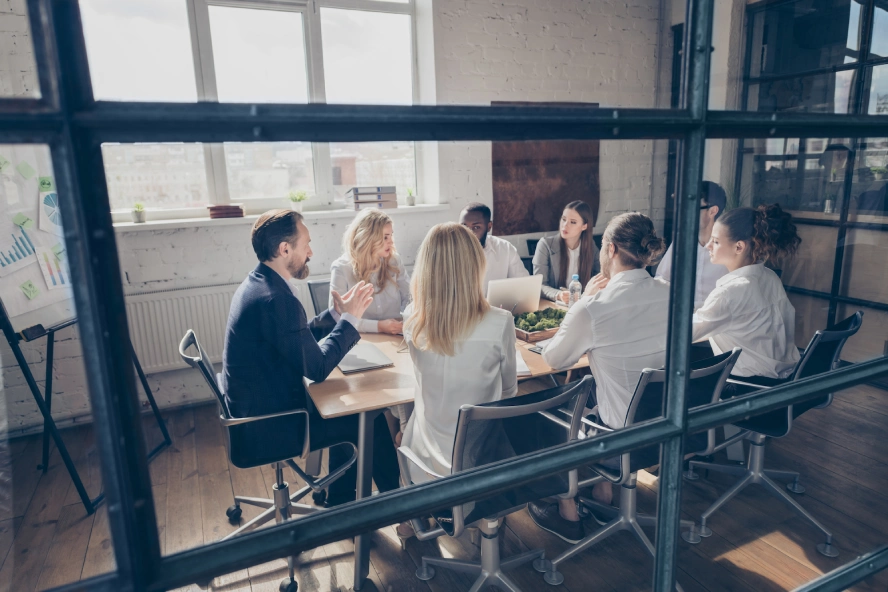 A fresh look at Microsoft Teams and Unified Communication
You're likely well aware of the many incredible Teams features, which include: 
Internal chat messaging with colleagues  
Voice calling for business communication
Video calling and conferencing 
File sharing and real-time document collaboration
Team-focused/Project-focused communication 
By unifying these features into one interface, MS Teams delivers exceptional value and powerful collaboration capability – possibly the best on the market. Additionally, integrating Solgari for Microsoft Teams, turns it into a true, all-singing-and all-dancing contact center as a service platform integrated with a company's internal communication channels. 
Teams becomes a comprehensive platform with all the necessary functionality to streamline processes, manage remote teams effectively, facilitate flexible working, and keep your entire workforce connected and productive no matter where or when they work. And essentially, it will enable you to open up effective new ways of working and improve existing ways of working. 
There are several other reasons Microsoft Teams is a Unified Communications Solution:
It's big on integrations 
Because Microsoft Teams partners with peers and competitors to enable native integrations, you can expand Microsoft Teams to meet your specific communication requirements without investing in on-premise infrastructure. Instead, you can use additional subscription-based, scalable services without fracturing your communications infrastructure.
Solgari for Microsoft Teams enables fast, intelligent, compliant all-channel communications via voice, video, chat, SMS, and fax, all in Microsoft Teams. It enables a broad range of industry-specific use cases that traditionally rely on a contact center operation, such as patient engagement, retail eCommerce support, post-sale remote service in Manufacturing, and enabling the bank branch of the future within the Financial Services sector. 
If you're looking to simplify your communications infrastructure and create the conditions for your workforce to communicate and collaborate seamlessly, take a look at Solgari's advanced features and see how we can help. Or request a demo to see our powerful solution in action. 
Optimise your Digital Investment: Debunking 5 Customer Journey Myths
Given the near-universal trend of consumers transacting and engaging on digital channels, businesses have in turn invested heavily in digital channels and capabilities to provide a better customer experience at a lower cost. 
However, pervasive myths about customer behaviours and needs are limiting service leaders' ability to leverage these channels effectively. As the use of digital channels evolves, consumer behaviour adapts alongside it. In order to stay abreast of customer behaviour trends, and curate an informed, effective channel strategy, service leaders must debunk these pervasive customer journey myths.  
In October 2021, Gartner published a valuable press release, written by PR Manager Gloria Omale, detailing five myths about customer service journeys that undermine service leaders' digital investments. 
In this article, we will explore Gartner's findings in the context of 2022. By unpacking the realities of modern consumer behaviour as discussed in Gartner's press release, we will demonstrate new ways to help you to optimise your digital investment and create long-term customer loyalty. Additionally, we will explore how an all-channels communication platform, like Solgari, can help you to optimise your customer service experience.  
Myth #1: Customers will adopt new channels without hesitation
All too many service leaders have begun to advocate for the use of self-service, automated capabilities, as it typically offers the greatest efficiency in terms of issue resolution. Leaders can tend to view this automated capability as a 'silver bullet', ignoring the established fact that customers can quickly lose patience and abandon self-service in favour of more familiar, assisted channels.
Research from Gartner demonstrates reports that many customers begin their service journey online. This creates an opportunity to redirect customers into digital channels like self-service. Once there, the key is to enable customers to escalate smoothly into an agent-assisted experience at will – where the agent is provided with visibility into the entire conversation up to that point as well as contextual detail on the customer's relationship with the business. This will optimise the digital investment poured into self-service functionality.  
Myth #2: Channel switching worsens the customer experience 
Service leaders believe that channel switches require customers to invest more time and effort, resulting in frustrations, lower retention, disloyalty and brand tarnishing. However, in their press release, Gartner reported that customers have no issue with switching channels, so long as their challenge is resolved in a single, continuous interaction. Frustration comes from delays and lack of communication. 
The best strategy is to curate unique customer journeys by utilising the most suitable channels for specific issues. Leading service organisations ensure that when a channel switch is needed, the context of the customer journey is also transferred. This decreases resolution time and minimises the chance of a customer abandoning the original interaction. 
Myth #3: Great customer service ensures customer retention
It is natural for service organisations to assume that if a customer has an exemplary experience with an organisation, then they will automatically want to do more business with them in the future. However, this is not always true. While high-quality service interactions may stop customers from leaving, it is not enough to ensure retention. Gartner reports that customers ultimately show loyalty to the company's product or service offering, rather than the service experience. Therefore, your business must ensure that customer service energy is adequately focused on helping customers obtain more value from the initial service offering or product.  
Myth #4: Proactive service reduces customer service call volume 
Proactive services are deployed to help resolve issues before they become problematic or disruptive to the end client. Service organisations tend to believe that by acting proactively, they will eliminate the need to contact customer service and therefore reduce hassle for customers. While proactivity is beneficial in many ways, research has found that it actually has the opposite effect on customer behaviour. While it does not consistently reduce contact volume or costs, proactive service does improve customer experience outcomes and is beneficial for the reputation of your brand. 
Myth #5: Customers frequently and instinctively contact customer service channels 
When issues occur, service leaders assume that customers will automatically reach out to customer service for problem resolution. After all, that is the intended purpose of customer service channels. In actuality, most customers view contacting customer service as their last resort. In particular, client bases made up of younger age groups, such as millennials and Gen Z, increasingly turn to third-party sites to resolve their problems. Therefore, when developing channel strategies, service leaders need to recognise and account for the fact that many clients seek out information via search engines and third-party channels first.  
Effective customer service and support is vital if you wish to enhance customer satisfaction and foster client loyalty. Solgari helps to make customer communication seamless, easy and efficient. Solgari integrates an all-channel communication endpoint directly into your CRM. You are always able to contact clients via the most appropriate channel (including voice, video, chat, SMS, WhatsApp and social media) without ever leaving your CRM screen.  
Unlock the communications freedom you have been waiting for. Book a meeting with one of our representatives to discover how Solgari could transform your customer experience and optimise your digital investment today. 
Solgari and Velosio announce partnership
Solgari and Velosio are delighted to announce their new strategic partnership. The alliance will enable Velosio's customer network to quickly benefit from Solgari's market-leading customer experience CCaaS solution, Converse, as well as reinforce Solgari's go-to-market reach across the American market. With all configuration in the cloud, go-live in days, and deep integration with Microsoft Dynamics Field Service, Sales, Marketing and Customer Service, Solgari enables businesses across the Velosio customer network to offer effective, productive and enjoyable end user experiences, in a consistent and joined up manner across each of their preferred communication channels, with the right blend of automated self-service and agent assisted outcomes and increased retention benefits for customers.
Commenting on the partnership, Bill Anderson, Chief Marketing Officer at Velosio said, "At Velosio, we carefully select the best solutions to meet the complex needs of our clients. We're confident in Solgari's ability to help our clients streamline their communications with their customers through a single solution – in turn, helping their employees become more efficient and productive."
Louis Doré, Solgari's Vice President of Sales and Partnerships, The Americas, remarked, "Solgari offers unrivalled speed to value, as our cloud-enabled all channel customer experience technology is proven to deliver measurable business impact in days. We're very excited to be bringing this opportunity to market with our friends at Velosio, and enabling businesses to meet their customers' ever-evolving expectations in the Manufacturing Industry; especially within field service, professional services and HVAC companies in the Mid-Market segment."
— ENDS —
Contacts
Vincent Kelly – Head of Marketing, Solgari
Bill Anderson, Chief Marketing Officer, Velosio
About Solgari:
Solgari is a Premium Tier Microsoft Business Applications ISV Connect Partner and part of the Microsoft Inner Circle for Business Applications. Solgari provides the All-Channel Communications Solution for Dynamics 365 and Power Platform, as well as the Solgari for Dynamics 365 Customer Voice Solution which delivers automated phone and SMS surveys.
Our solutions allow Dynamics 365 and Power Platform customers across Healthcare, Financial Services, Manufacturing, Retail, Real Estate and Non-Profit to address all business communications from customer care, contact tracing, sales, marketing, surveys, and automation, across all channels and functions removing the need for multiple telephony, contact centre, recording and archiving, and carrier solutions. Solgari is an end-to-end global cloud communications solution requiring no hardware or software and in conjunction with our carrier and SMS capability, is available anywhere.
If you are interested in finding out more about Solgari customer outcomes, visit www.solgari.com
About Velosio:
Velosio is a leader in deploying business applications through the cloud and delivering unparalleled client experiences for small and medium-sized businesses, and larger enterprises. One of the largest Microsoft partners in North America, Velosio supports the entire Microsoft Dynamics portfolio, Microsoft Office 365 family, and Azure services. Our solutions portfolio includes ERP, CRM, Productivity, Business Intelligence, and Power Platform with industry expertise and solutions for Professional Services, Field Service, Agribusiness, and Distribution, and extends to NetSuite and Sage. Headquartered in Columbus, Ohio, Velosio serves over 4,000 clients across US and Canada.